From Striploin, Porterhouse, Ribeye to Tomahawk, Urban Wagyu serves affordable high marbling scores of wagyu meat and other high grades of meat that everybody can enjoy
It seems like Pantai Indah Kapuk area never stops bustling with the provision of culinary spots. Just a month ago, Urban Wagyu opened the first outlet in this area of PIK 2 with the purpose of pampering all of you carnivores who've got a hankering for good quality premium steak dishes.
Hailing from Surabaya, Urban Wagyu has already stamped its prominent name since its inception in 2018. So far, Urban Wagyu has successfully spawned 3 outlets in Surabaya. Their mission is simple, to pamper your needs of meat in a warm and welcoming service. From Striploin, Porterhouse, Ribeye to Tomahawk, they serve affordable high marbling scores of wagyu meat and other high grades of meat that everybody can enjoy.
Chef Novan as Sous Chef Corporate of Urban Wagyu explained that the wagyu meat served at Urban Wagyu is brought precisely from the cattle farm in Lampung. The name of the cattle is Brahman whose meat quality is unquestionable.
Stepping into Urban Wagyu, you'll get all the elements of classic and elegant glamour. The whole pine green backdrop all over the wall, wooden paneling, comfy seat setting, and a wall partition made of neatly placed wine bottles help match the restaurant's classic beauty with some modern flair. The 3-story space which expels a high-end scent that brings a more intimate and private dining setting will make the guests linger.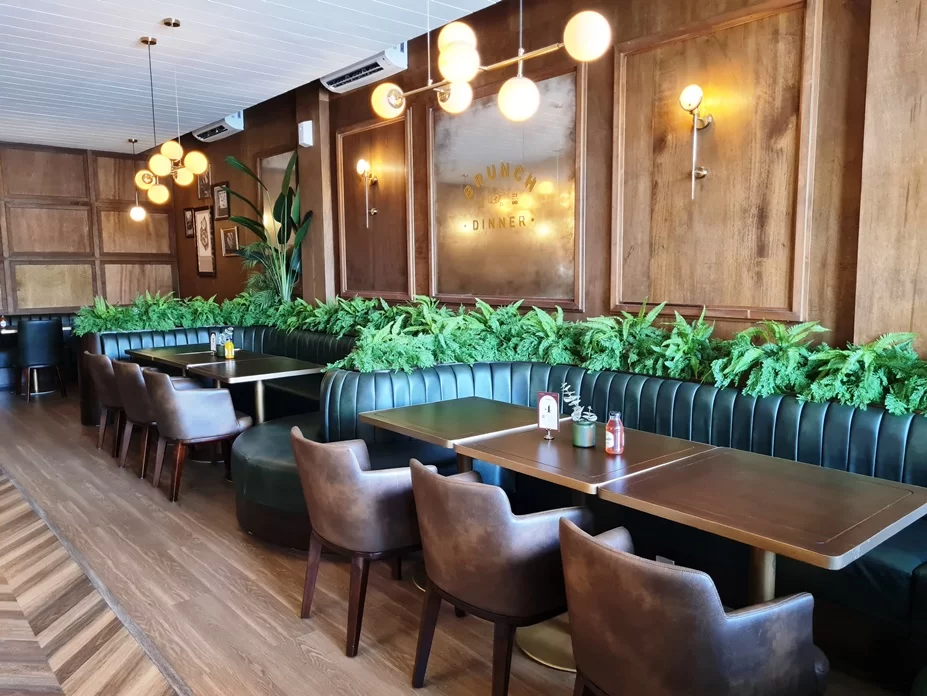 Our first-course meal was exceptional. Chef Novan puts a shine on Wagyu Tomahawk. Bring your besties for this feast. This sexy tomahawk is made from an intriguing presentation of MBS 4+ seasoned with cajun, black pepper, and chef's other secret ingredients that bring out the flavor to the fullest. You can blatantly taste it like it is or want to enjoy it with a series of sauces like BBQ, black pepper, and mushroom sauces to taste a more layered taste.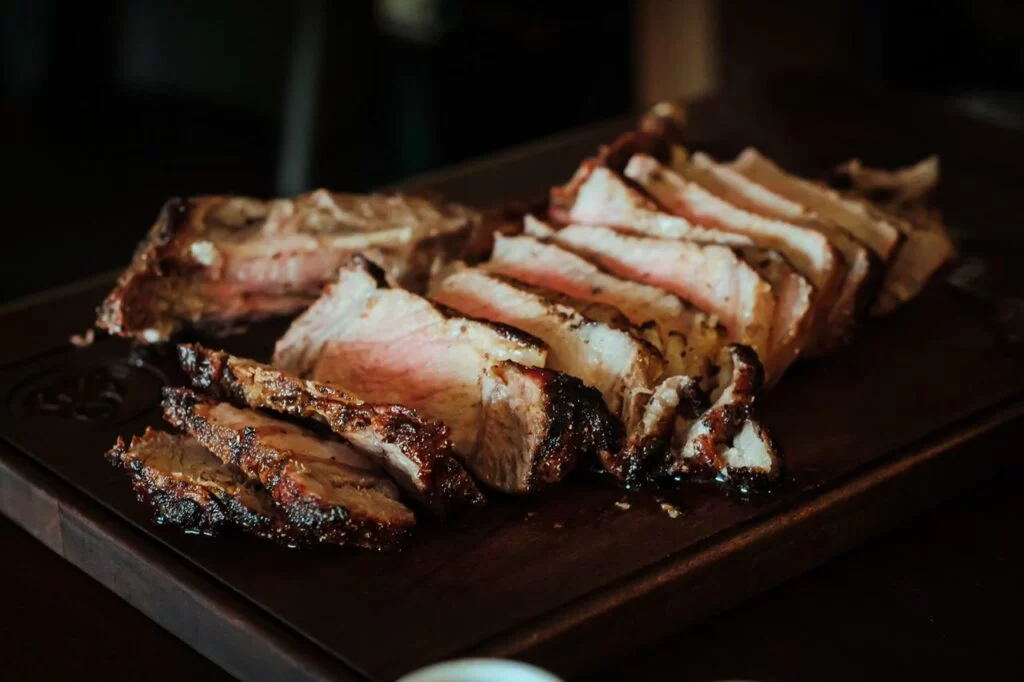 Urban Wagyu is not only famous for the sharing type of steak, the stand-alone steak dishes for one are also mandatory to try. The Urban Wagyu Signature Wagyu serves primary cuts of true blood wagyu beef that surely melts in your mouth. For the Signature Wagyu Striploin dons with a classic mashed potato, greenies, sliced cherry tomatoes, and a fine mini cup of mushroom sauce. As they're bringing the dish to the table, the MBS 7-8+ meat is still sizzling, seasoned and cooked to perfection, and showing no sign of extraneous fat.
Meanwhile, you can order the side dishes to bring extra flavor to your table. We opted for the Sauteed Mushroom. The name is tricky as Chef Novan picks to roast and then oven the mushroom to bring out the unnecessary water and contain the juicy flavor resulting in the chewy and juicy mushroom. The mouthwatering champignon mushroom is adorned with fried garlic flakes for the savory addicting flavor and texture.
Cheese Wheel Fettuccine, is a classic Urban Wagyu accompaniment that brings one main attraction around the tables. As they are serving the pasta dishes, they bring out the service cart completed with a portable stove and a whole Grana Padano cheese wheel to do live cooking. The aroma surely hit our appetite once again. The fettuccine was nicely seasoned and a joyous over truffle oil used on this dish was delightful. When digging into this very rich and creamy pasta, the slightly cubed beef meat and sliced mushroom came together delicately.
One of the restaurant's signature dishes, UW Signature Wagyu Burger was next. The double wagyu beef patties were really a treat, then topped with a soft yet crusty wheat seed bun as the cherry on top. For the side, they have thin-layered potato chips. The crispiness of the potato chips was a great complement to the indulgent burger.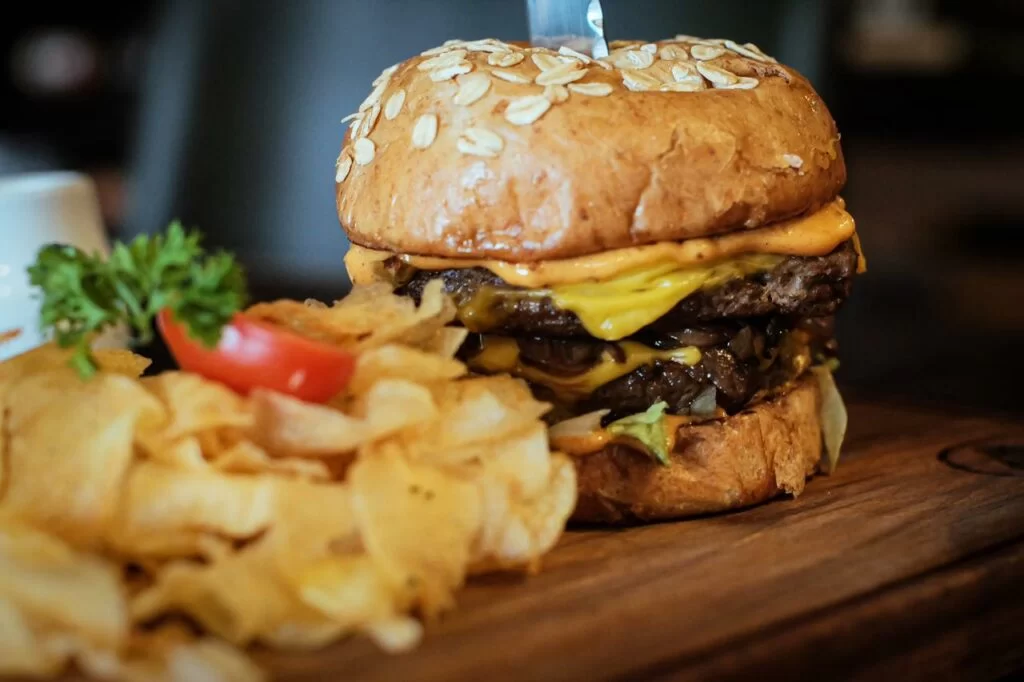 To wash down the throat, we were treated with Orange Yakult. The exquisite drink is made from mashed orange, orange juice, yakult, and ice cubes which added pleasantly sweet, sour, and fresh tones. It's very light, perfect for the fact that we were decently, satisfyingly full after all the meal. For a healthier option, we had Suwe Ora Jamu's Sereh Telang with iridescent purple-blue color which went down nicely with the aromatic lemongrass.
Urban Wagyu
Ruko Golf Island PIK Blok J 62-63, Jakarta, 14470, Indonesia.
Open: 09:00 AM – 10:00 PM daily
Phone: +62818 9191 66
Instagram: @urbanwagyu
https://www.urbanwagyu.com/